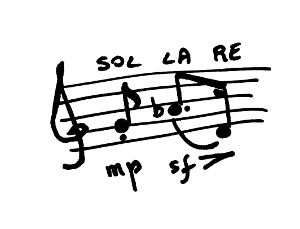 Copyright © Juan María Solare 2015, all rights reserved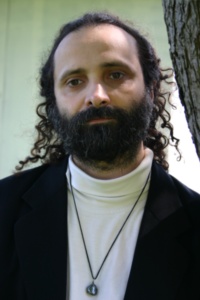 a word to the wise
Balá
para dos grupos de instrumentos informales (o un percusionista solo)
música de Juan María Solare
"Like" this particular page on Facebook
"Like" or "recommend"
the composer on Facebook
If you are interested in having the complete score of this piece for a possible performance, do
drop me a line
.
I am
not
offering it here directly as
sheet music free download
, but we can negotiate on an uncomplicated
donation basis
of the kind "
pay what you want
".
Daniel Serale ejecutando Balá con dos saleros (aludiendo a la pregunta de Carlitos Balá: ¿Qué gusto tiene la sal?)
---
música argentina latinoamericanna percusión
Musik für Schlagzeug
Carlitos Balá
Balá fue compuesta en Colonia (Alemania) el 17 y 18 de abril del 2003. La obra, cuya duración es de casi dos minutos, está dedicada al cómico argentino Carlitos Balá. Estreno por Daniel Serale en Buenos Aires: 24 de agosto de 2005 (en el Conservatorio Nacional de Música, ciclo "Dígame Licenciado")
El motivo rítmico generador de Balá está asociado indeleblemente, en Argentina, con Carlitos Balá; pero según mis pesquisas se lo conoce en lugares muy distantes del globo (lo cual suscita atractivos interrogantes sociológicos y de etimología musical).

Motivo básico: xy (cada uno llena un compás de 2/4). Estos motivos se recombinan siguiendo una progresión aritmética simple. Los siguientes números indican la cantidad de veces que aparece cada célula rítmica:
-----------------------
x y

0 1
-----------------------
1 1
1 2
1 3
2 3
3 3
3 2
3 1
2 1
1 1
-----------------------

etc.

Si les interesa tener la partitura completa de esta obra para una posible ejecución,
envíenme unas líneas
.
No
la estoy ofreciendo aquí directamente como
descarga gratuita de música
, pero podemos negociar basados en una donación voluntaria del tipo "
pague lo que quiera
".
Balá entstand am 17. und 18. April 2003 in Köln. Das Stück, dessen Dauer fast zwei Minuten beträgt, ist dem argentinischen Komiker Carlitos Balá gewidmet. Uraufführung durch Daniel Serale in Buenos Aires: am 24. August 2005 (im Conservatorio Nacional de Música, Reihe "Dígame Licenciado")
In der Uraufführung spielte Daniel Serale "Balá" mit zwei Salzstreuern (als Anspielung zur Hauptrage von Carlitos Balá:
Wie schmeckt Salz?)
Das rhytmische Grundmotiv von Balá wird in Argentinien unvermeidlich mit Carlitos Balá assoziert, allerdings ist es bekannt in den unterschiedlichsten Orten der Welt (etwas, das anziehende Fragen soziologischer Natur oder über die Etymologie der Musik auslöst).
Grundmotiv: xy (jedes füllt einen 2/4-Takt). Diese Motive kombinieren sich einer einfachen arithmetischen Progression folgend. Die folgenden Zahlen bezeichnen die Anzahl von Erscheinungen jeder rhythmischen Zelle: